In the joyful atmosphere of celebrating the 65th anniversary of its establishment, Hue University's School of Medicine and Pharmacy organized a specialized conference on "The Application of Transcranial Magnetic Stimulation in the Treatment of Mental Disorders and Neuropathic Pain" on the afternoon of June 18, 2022.
Among the distinguished guests attending the conference were Dr. Hoang Trong Quy, Deputy Director of the Department of Health in Thua Thien Hue province, Mr. Ho Dung, M.Sc., MD, Director of Hue Mental Hospital, and Dr. Louis Brasseur, Head of the Pain Treatment Unit at BVFV Hospital. The conference also welcomed representatives of the leadership from various hospitals within and outside the province. The keynote speakers were experts in the fields of mental health, neuropathic pain, and transcranial magnetic stimulation.
The university's leadership was represented by Associate Professor Nguyen Minh Tam, Vice Rector of the university, and Dr. Tran Nhu Minh Hang, M.Sc., MD, who is in charge of the Psychiatry Department, along with faculty members from related departments.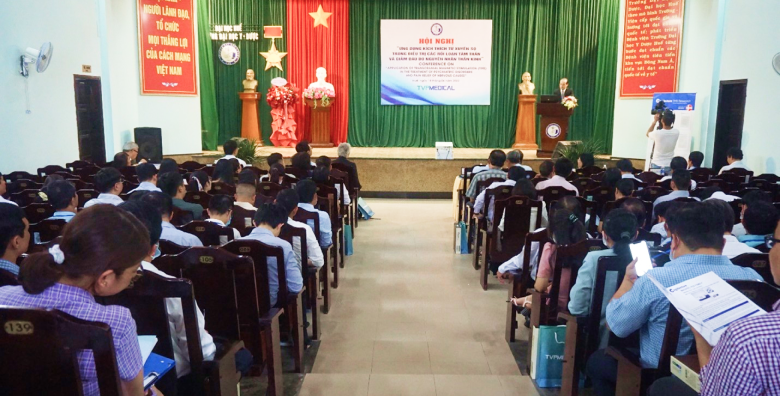 The workshop was attended by nearly 250 participants, including professors, experts, and doctors working in the fields of psychiatry and neurology. TMS is a relatively safe treatment method that can be performed on an outpatient basis, without causing pain, thus eliminating the need for anesthesia. Immediately after the treatment, patients can resume their daily activities or even drive a vehicle.
Attending this conference provided an opportunity for scientists in the field to share knowledge and preliminary research results regarding the effectiveness of transcranial magnetic stimulation therapy in the treatment of mental disorders and neuropathic pain. Through these discussions, the aim is to improve the effectiveness of healthcare services and treatment for the people.